Images are incredibly important part of your digital marketing efforts as they help you shape your online presence- from facebook ads, through blog posts content to our selfies ;). They also play an important role in how our business or offering (and ourselves!) are perceived online. The good image can sell as well as the good copy is able to. Fact. But the good image can cost a little fortune. That's an unfortunate fact too.
Thankfully, there are some photo websites that stock high-quality images to use for free. In fact, there are so many of them that browsing through their resources can be a bit overwhelming, so I did it for you. I have researched and selected the best free stock image libraries especially good if you target a female audience. Hope you find this selection helpful, but first, before we start, let's explain what the free stock photos really are…
What are free stock images?
When analysing the libraries, I have especially focused on those that are free from copyright restrictions or licenced under creative commons public domain dedication. That means you can easy do whatever you want with them without asking for permission OR without paying for the usage, so you can copy, modify, distribute and perform the work, even for commercial purposes.
However, it doesn't mean that you can always use them without attribution- some of those images may require credit the creator. If that is the case, here is a wiki page that will guide you how to do it correctly.
Ok, so we have this clear, le's dive into my selection of free stock photos that can be used ideally for female audience.
Gratisography.com
Gratisography is one of my favourite on this list as the images are a little bit… different! There is a lot of humour and play used when capturing those unique moments of joy, laugh and fun. I think those images can really "speak" to female audience.
Magdeleine.co
A large selection of hand-picked free photos for your inspiration. Although the images are not that well tagged, they are categorised by nature, people, animals, food, technology, objects and abstract as well as city and architecture.
Please note that they stock both, images under CC0 licence (public domain) as well as photos that require attribution, so read carefully when using them!
Picjumbo.com
A library of totally free images and many of them have a feminine vibe. I used them quite a lot across my social account as they do not look like the typical stock images at all. They use quite a lot of filters and haze and many of those images feel like they capture a moment- just perfect to use on your blog or social.
Pixabay
Pxabay is one of the largest libraries of free photos with more that half a million of images, videos and art illustrations released free of copyrights under Creative Commons CC0. You may download, modify, distribute, and use them royalty-free for anything you like, even in commercial applications. Attribution is not required.
Kaboompics.com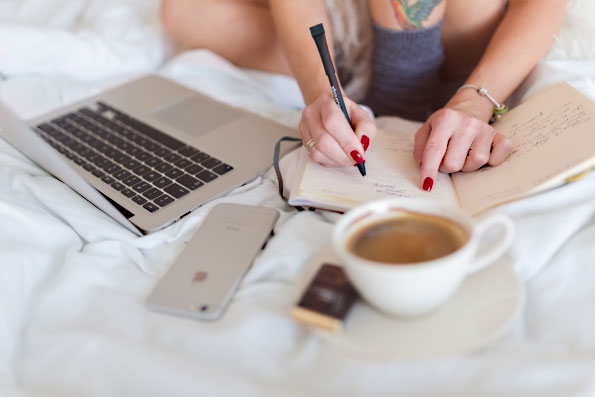 I left the best at the end. Those photos are my secret weapon, well not anymore;) They are just perfect to be used across social media platforms and blogs which target female audience. All the photos are taken by Karolina, a web designer from Poland and she shares a collection of good quality photos offered for free to bloggers, website owners and small businesses. You can browse through thousands of pictures without any payment even for commercial use.
Summary
I hope you enjoyed this selection. I thought that instead of creating another list of "100" or "50 best", I will really research and select the best free stock photo libraries that are suitable for a female audience. Please bookmark this post as I will be updating this list if there is a new free stock images website worth mentioning!