Step 2. Get a Paid Hosting Account (Don't Worry This Will be Cheap)
Now, let's learn about the hosting.
Hosting is a service of storing, serving, and maintaining files for one or more web sites. If you want anyone on the Internet to be able to view your website at any time, you need to make sure your website is running on a computer which is connected to the Internet 24 hours per day, 7 days per week (24/7).
This is literally what hosting companies offer you.
Their connection is much faster than yours at home and more reliable.
When you start a blog there are two options. You can choose to host it on a web-based platform like WordPress.com or Blogger. It means that those companies store your files. Or you can do the sensible thing if you're hoping to use your blog as a business and run it from day one on a self-hosted platform- this means you need to buy a web hosting service and have your own account.
This is pretty straightforward; however there are many companies out there, some of them not having a good reputation. Before choosing your hosting provider, do your research well. To help you, I have written How to choose a reliable hosting post. I think it is definitely worth reading at this stage of your journey.
I use Site5, it is a less-known hosting company, but they've been amazing from they one since I started working with them (they migrated my entire website from other hosting for free!). Now, SheKnowsDigital and many other sites I own are run with them.
Let's set up this hosting then.
Go to site5.com and choose one of the 3 hosting plans presented- usually if you just start your blogging adventure, the cheapest option is the most suitable). The hosting cost just 4.95 USD/ month!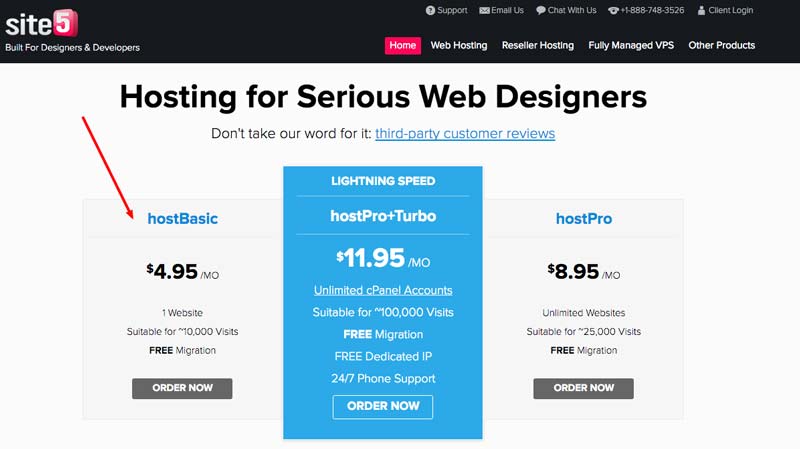 Then choose your hosting location. If your primary audience in based in Australia, then choose that location (further distance may influence negatively your websites load speed especially in case of images). Since my audience are soloprenuers that are based worldwide, my servers are located in London, UK.
After selecting sever location, choose your hosting plan length (I usually pay monthly) and click next.
Since you already bought domain name with GoDaddy now, you need to "tell" Site5 what's the name of your domain. Tick "Use a domain name you already own", type your domain name in the box below and click next:
In the next and final step you will be asked to fill in your contact details and payment information and confirm your order and you will be presented with the following confirmation:
Now, go to your inbox.
You should receive an email titled: Your Site5 Backstage Login Info.
Open it and go to: https://backstage.site5.com and login to your account.
In order to use the hosting, you will need to set up two security questions- do it now, it will be very helpful when you need to contact their support team.
After you logged in to the backstage, go to Billing/ Upgrade/ Cancel and under Billing and Payments (on the left-hand site menu) click your preferred payment method: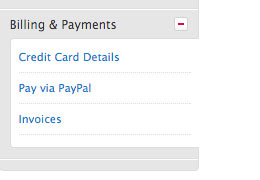 I choose Paypal and click on "make PayPal payment" button on the bottom of the page and go through a payment process. When this is done and you are redirected back to Site5.com which now have this small drop down menu activated:
Choose your domain and here is your cPanel hosting (the main dashboard).
You did it! The most difficult part is all behind you! You should be proud of yourself!
Now, it's time to tell GoDaddy that you have your own hosting for the domain!